Pros and Cons of Getting Sectional Doors
03/08/2015
Back To Blog
Among the different types of garage doors, the sectional garage door has proven to be one of the most popular ones. In fact, sectional garage doors have proven to be one of the best-selling types of garage doors in most garage door companies. But if you are looking at purchasing a sectional door, it is essential that you are aware of both the pros and cons. That way you will be able to make a good and sound decision. Here are some of the things you need to know about sectional doors: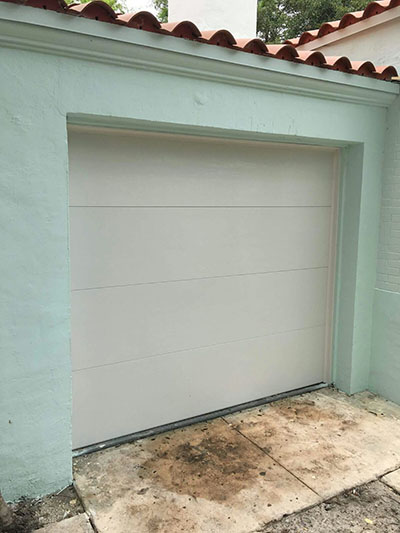 Pros of Getting Sectional Garage Doors
Sectional doors can fit into any shape and size of a garage door opening. This is helpful for those with smaller homes. But one of the better things about sectional doors would be the many panel designs they comes with. They also come in a myriad of paint finishes and colors. So if you are thinking of wooden designs or metallic finishes, sectional doors are the way to go. You can even specify the panel's front face should you want it in smooth silkgrain, stucco or even have laminate foil coatings to suit your personal style. If you are particular with the style of your home and wish your doors to match your décor, this would be the best option for you. Moreover, if you are looking for trendy, metallic finishes for door surfaces, a lot of sectional doors come with these designs. Another advantage to getting sectional doors would be the vast variety of sizes and shapes. You can get sectional doors in panels made of double and single skin steel, timber, aluminum and even those made of fiberglass. Lastly sectional doors are perfect for those who are particular with security. By mere nature of their mechanism and design as the door panels are behind a sturdy framework made of steel, sectional doors have great lateral resistance.
Cons of Getting Sectional Garage Doors
Sectional doors need quite a bit of extra room apart from the door opening as they need horizontal runners for them to operate properly. So if you are looking at something for a very small space, then this might be a problem for you. Another issue you might have would be if you are looking for doors with finishes that are laminate wood grain, they can get quite limited with sectional doors. Sectional doors are generally quite secure, especially if they come with an electric garage door opener. However, one with a basic lock and handle system can be quite easy for an intruder to break in. This might be a bit more costly as compared to one with a simple mechanism. But if you are particular with security, then it might be best to invest in garage doors with electric operators for maximum security.
With all this information, it would be easier for you to decide as to whether you would wish to have sectional doors. Just make sure to buy from a reputable source that will be able to ensure good installation, repair and maintenance.